Linear Underground Projects (LUP)
Linear Underground Projects (LUP) are projects that disturb less than one acre, but more than 250 square feet of the street right of way (ROW). Activities include soil disturbance, clearing, grading, stock piling or excavation. LUPs utilize a notification process and require implementation of Best Management Practices (BMPs) to prohibit sediment from leaving the project site and discharging into the sewer system. Chapter 32, Article IV.5 sets the standards that projects must meet.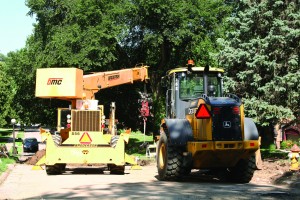 Construction activities associated with LUPs include, but are not limited to, those activities necessary for the installation of underground and overhead linear facilities (e.g., conduits, substructures, pipelines, towers, poles, cables, wires, connectors, switching, regulating and transforming equipment, and associated ancillary facilities), underground utility mark-out, potholing, concrete and asphalt cutting and removal, trenching, excavation, boring and drilling, access road and pole/tower pad and cable/wire pull station, substation construction, substructure installation, construction of tower footings and/or foundations, pole and tower installations, pipeline installations, welding, concrete and/or pavement repair or replacement, and stockpile/borrow locations.
In order to reduce pollutants that can result from LUPs, the Omaha Municipal Code requires the use of best management practices (BMPs), including:
Storm Drain Inlet Protection
Tracking Control
Stockpile Containment and Protection
LUPs are required to notify the Public Works Department within 48 hours prior to beginning a project. However, projects completed within 72 hours or in response to emergency conditions or a disruption to essential public services are exempt from the notification requirements. More detail regarding the LUP requirements can be found in Omaha Municipal Code Sections 32-110 — 32-113.